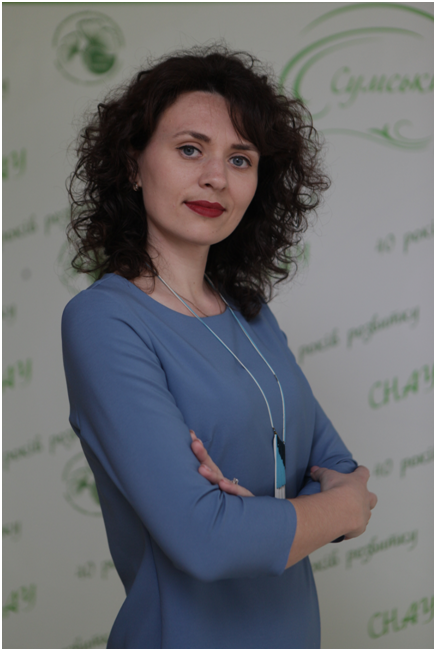 Associate Professor of Public Management and Administration Department
PhD in Economics
E-mail: alinkabrychko@gmail.com
Google Scholar: https://scholar.google.com/citations?authuser=1&user=-AWDRZsAAAAJ
ORCID: https://orcid.org/0000-0003-4902-1403
Scopus ID: 57203524196
Born May 02, 1986 in Chernihiv, Ukraine.
2003-2007 – studying at Sumy National Agrarian University, Faculty of Management and Law (Bachelor's Degree in Management, Honors Diploma).
2007-2008 – studying at Sumy National Agrarian University at the Faculty of Management (Master's Degree in the specialty: "FEA Management", Honors Diploma).
2008 – Sales Manager of flexo printing products of CJSC "Technology", Purchasing Manager – sales of PE "Kotvitsky E.V."
October 2008 – November 2011 – Postgraduate student of the full-time department of Sumy National Agrarian University, specialty 08.00.04 – Economics and Management of Enterprises (by types of economic activity);
January – September 2012 – Assistant of Sumy NAU Department of Statistics, aroindustrial activity and Marketing.
October 2012 – September 2015 working at the dean-office of the Faculty of Economics and Management of Sumy NAU.
2013-2014 – Assistant of the Department of Management in the branches of AIC Sumy NAU.
2014 – 2015 – Assistant, Department of Economics, Sumy NAU.
2015 – defended PhD thesis on "Economic principles of adaptation of agricultural enterprises to the conditions of globalization", specialty 08.00.04 – Economics and Enterprise Management (by type of economic activity) in the specialized academic council of Kharkov National Agrarian University. V.V. Dokuchaev received the title of Candidate of Economic Sciences.
2015 – 2019 Senior Lecturer, Associate Professor at the Department of Economics of Sumy NAU.
Since 2019 – working as an associate professor of the Department of Public Administration and Administration.
The main courses are: "History of Ukraine and Ukrainian Culture" (in English), "Regional Economics" (in Ukrainian and English), "Analysis and Control of Enterprise" (in Ukrainian and English), "Economic Policy" (in English).
Areas of scientific research: Theoretical and methodological foundations of state regulation of sustainable development of Ukraine and its regions.
Advanced training (internship):
Participant in the project "Sustainable Agriculture Development – 360o Farm Assessment and Development of a Joint Development Strategy". Supported by the Swiss Cooperation Office of the Embassy of Switzerland in Ukraine and Nestle Ukraine, 2017.
Participation in the Erasmus + KA2 CBHE (Higher Education Capacity Building) project. Program 585603-EPP-1-2017-1-DE-EPPKA2-CBHE-JP "From Theoretical-Oriented to Practical Education in Agrarian Studies" (TOPAS) 2018, 2019.
International seminar-training with the participation of the representative of applied sciences Weienshtefan-Trizdorf. "Innovative aspects of enterprise activity planning" (25-29.03.2019)
Other information: Coordinator of the international project UFMD (Ukrainian Farm Management Data), Vice-Dean of Economics and Management Faculty of SNAU for scientific work.